Purchasing a vinyl cutting machine is certainly a good step to take if you are looking to start a little business or a hobby, for cutting and drawing designs on different kinds of materials.
However, the question that arises is this: How do I choose a good vinyl cutting machine with the market being flooded with hundreds of different ones? Which ones do offer this or that feature? It's pretty confusing I agree with you.
This article is dedicated to the USCutter Titan 2 review. We will discover together what this die cutting machine has to offer. We will highlight its strengths without forgetting to mention what it has as weaknesses.
In the end, you will be able to determine if this machine is made for you or not. Now, let's start by presenting the USCutter manufacturer.
USCutter: The brand
It's fairly easy to describe this company. In a sentence, USCutter is a corporation specialized in the design and creation of vinyl cutting machines and their related accessories.
However, due to the large success they encountered, they've decided to expand their creations. From now on, you will find devices like heat press machines, or heat transfer printers made by USCutter, and the list goes on and on.
But is the USCutter TITAN 2 up to our expectations? Is it really a good competitor to the successful Silhouette Cameo 3 or to the popular Cricut maker? Keep reading to find out!
USCutter TITAN 2: Quick features sepcifications
If you are in a hurry, here are the overall specifications of the USCutter TITAN 2:

Maximum Media Width: 28″
Maximum Cut Width: 24″
Dimensions: 38″ x 13″ x 17″
Blade Types: Roland compatible
Driving Method: Friction feed
Maximum Cutting Length: 300 in
Maximum Pressure: 1,65 pounds (750 g)
Maximum Speed: 37 in/s
Memory: 512K/4MB; CPU: 64bit DSP 32MFlash
Noise: Very low
Number of Pinch Rollers: 3
Power Requirements: Works on 110-120v at 3amp or 200-240v at 2amp
Repetition Accuracy: 0.0003in (0.01 mm)
Resolution: 0.0254 mm/pulse
Carriage with 4 wheels
Aluminum alloy construction, precision ABS sides
All metal moving parts
Mac & PC compatible USB and RS-232 connection
Large LCD display & control panel for adjusting speed and cutting force
Cuts adhesive vinyl, heat transfer vinyl, cardstock, paint mask stencil, laminate, sandblast mask, low & high intensive reflective material
Servo motor for quiet and accurate performance
USCutter TITAN 2: What comes in the box?
We can't obviously start our USCutter TITAN 2 review without taking a quick peek at the different accessories provided with it. So, here it is:
Floor Stand & Material Basket
Design & Cut Professional Software: VinylMaster Cut
Blade Holder
3 TITAN Blades, (1×60° , 1×45° & 1×30° blade)
Pen Holder (use to plot instead of cut)
Stand Assembly Tools
USB Cable
9-pin Serial Cable
Lifetime Phone Support
If you notice anything missing, which is very unlikely to happen, feel free to contact USCutter, here, or contact the store or website in which you made your purchase.
USCutter TITAN 2: The design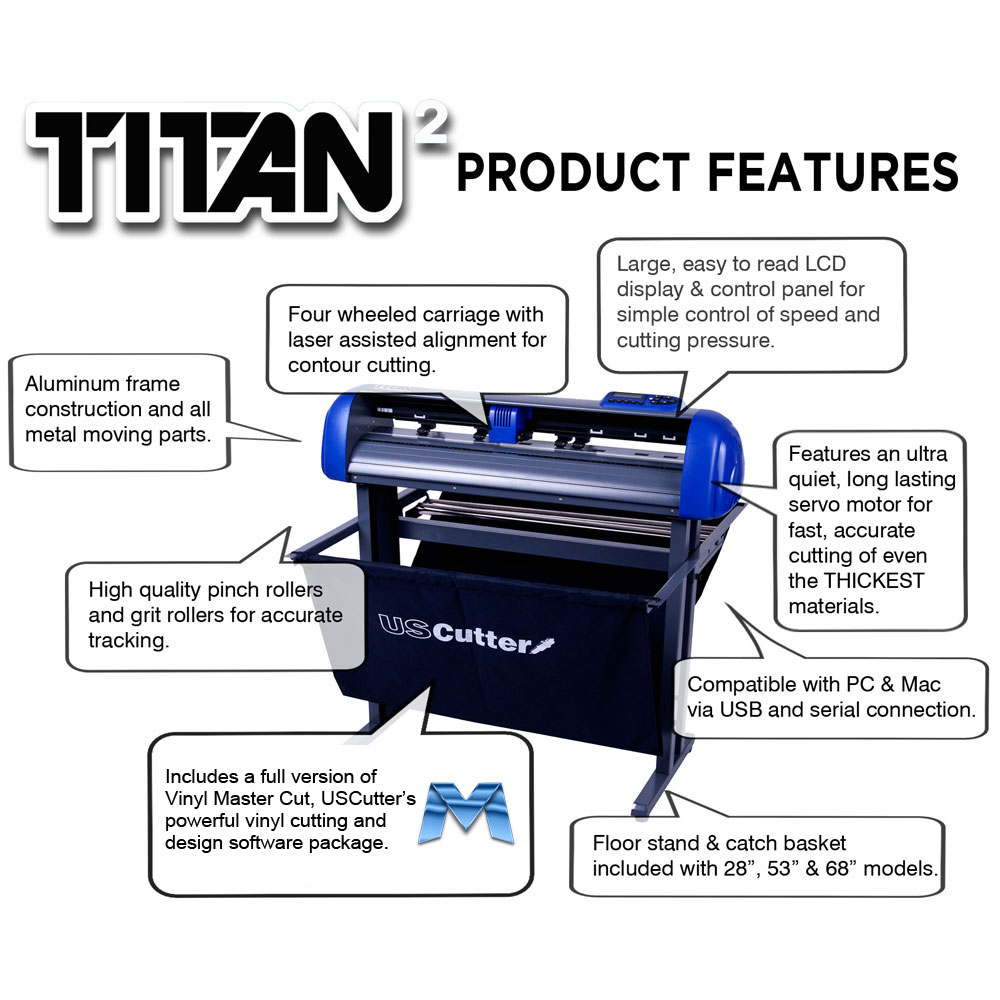 We can all agree on one thing: If it's working and is reliable, then there is no need to change it. This is the same reasoning behind the design of TITAN 2.
This die cutting machine has a classical design. But with it, you can be sure that you will benefit from a good foundation style.
However, you should duly note that TITAN 2 can be a space-consuming device to consider. It has an overall 38.5″ x 17.2″ x 13.6″ dimensions, with a 55 pounds weight.
The reason behind this is simple to understand. With these dimensions, you will obtain greater cutting capabilities, and also good stability. So no matter how rough your cuttings can be, rest assured, TITAN 2 will definitely stay in place without any problems.
For those of you who fear short life-span products, I'm here to reassure you. USCutter TITAN 2 is made with aluminum frame construction. With this kind of material, you will have access with no room for doubts to a long-lasting device, able to withstand rigorous and regular usage without encountering any major problems.
USCutter TITAN 2: Cutting capabilities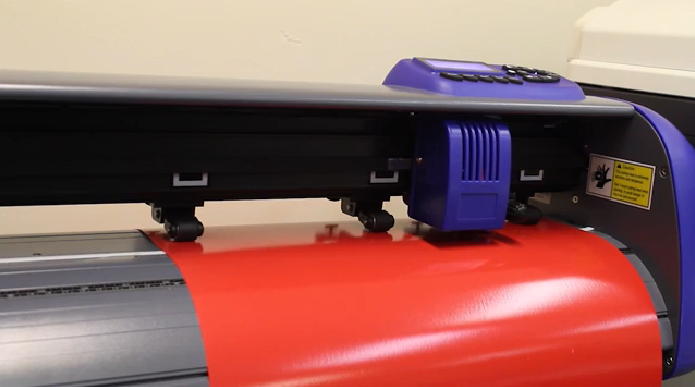 This is where TITAN 2 is shining more than the majority of the die cutting machines available. With its 1,65 pounds (750 gr) cutting force, you will be able to work on a vast majority of objects, including the most robust ones like leather.
As I stated before, purchasing this machine comes with the perks of having access to 3 different blades (1×60°, 1×45° & 1×30° blade). Each blade has its own unique capability. For example, by using the 60° blade, you will obtain clean and precise results on thick items. The 30° blade, however, is practical on thin materials.
What about its maximum cutting length and width? This is where I couldn't believe my eyes at first, but after checking the price of TITAN 2, I immediately understood why. The cutting length achievable with this die cutting machine can reach the 300″. Pretty amazing don't you think? As for the maximum Media width and the maximum cut width, they can reach respectively 28″ and 24″.
USCutter TITAN 2: Performance
When it comes to performance, we may site 3 criteria that will surely make you desire to own the USCutter TITAN 2.
First, the Automatic Register Mark Sensor or also known as ARMS. So what's it? Simply, this feature ensures a more contoured cutting, and in the end, ensures better high-end results.
Second, TITAN 2 offers the Laser Positioning Sensor feature, which is essential to establish precise and accurate cuttings.
Lastly, what's also interesting to acknowledge, is the performing fast servo motor. The TITAN 2 servo motor makes the machine faster, quieter, more accurate and able to cut thicker materials than the standard engines.
USCutter TITAN 2: The software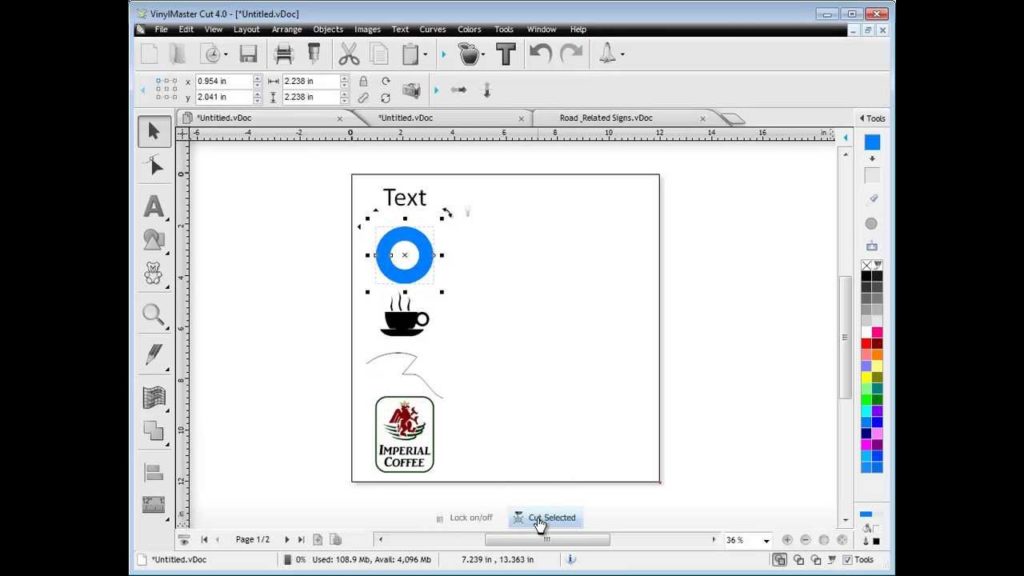 I got bad news for Mac's users. Unfortunately, the software provided with TITAN 2, which is called "VinylMaster Cut" is not compatible with MAC. I've got to say that this is definitely not what we would expect to hear especially in 2019. In order to use this die cutting machine with Mac, you will have to go for other software like Inkscape.
But aside from that, is VinylMaster Cut a good software? Obviously, the answer is yes. Why?
For starters, VinylMaster Cut will allow you to express your thoughts with just a few clicks. You will be able to produce a wide variety of vinyl lettering, pinstriping, and general signage, with a vast majority of
texts, curves, and object tools.
Besides, this software does include also Vectorization tools. With this feature, no need to worry if this or that format will be compatible. All types of pictures can be easily accommodated into cuttable vector path designs in just a few seconds. Even the low-quality jpeg and bitmap images can be made real thanks to that.
Last interesting feature to point at, is the Spool Function. So what's so special about it? Well, if you have a vinyl project that requires layering of multiple colors, the Spool function can very much be the required solution to use. Send numerous jobs to the queue, and sort them by color: The cut will be applied only on the specified color of the design.
This will permit you to complete multiple multi-layered multi-color workflows without switching between rolls of vinyl that have different colors.
Here is a short tutorial on how to use basic tools with VinylMaster Cut:
Pros of the USCutter TITAN 2
Time to wrap everything good we saw about the machine in a simple list:
Very easy to use.
Provides three different blades
You can pause the cutting and restart it when something goes wrong with the machine's emergency stop/start option
Provides the Automatic Register Mark Sensor feature
Provides the Laser Positioning Sensor feature

Great cutting force and cutting dimensions
Made of extra resistant materials
Provides a two years warranty with lifetime phone support
Cons of the USCutter TITAN 2
We can't obviously move on without taking into consideration the weaknesses of USCutter TITAN 2:
Pretty expensive
The VinylMaster Cut software is only PC compatible
Big dimensions, so it's difficult to move or store
Does not provide double Carriage feature unlike the Cricut explore air 1 (can't draw and cut at the same time)
Does not provide a scanner unlike the Brother scan and cut 2 CM350
Does not provide Bluetooth connections
>>>Check the price of USCutter TITAN2<<<
Customers reviews
This is the most important part to read: what do the people that bought TITAN 2 think of it?
Well good news: TITAN 2 is well appreciated by almost all of its users. Even professionals agree that this machine is easy, reliabe and an efficient one to opt for.
Conclusion
That's it for our USCutter TITAN 2 review. As you can see, this vinyl cutting machine is a pretty good device. It offers realible features essential to ensure great precision and high-end results.
However, one should definitely take into account all the cons that I've enlisted in the previous section.
If you want to have a look at my best selection for vinyl cutting machines that cost less than $300, you will maybe find a better choice than TITAN 2.
In the meanwhile, if you think that the features of USCutter TITAN 2 are the ones you are looking for, then don't hesitate to go for it.
Summary
Reviewer
Review Date
Reviewed Item
Author Rating