With the market being flooded with all sorts of vinyl cutting machines, you are left wondering what device you should choose.
Well, we can't obviously blame you for that, everyone is claiming to have the most efficient machine available for sale. Here, on this website, we will take a critical glance at the most popular vinyl cutters and also heat press devices.
This time, and to extend your knowledge about the vinyl cutters, I have chosen to talk about the "saga" vinyl cutter review, and in particular about the "Saga Standard Stepper 720I" device.
We will explore its features and functionalities, its strengths, and lastly, its weakness. Hopefully, at the end of this review, you will be able to determine if this device can answer all your required needs or not.
If you want to explore other vinyl cutting machines reviews, then take a look at this Brother ScanNcut dx CM350 test. If you are interested in a more pocket-friendly choice then check the cricut explore family of machines.
The brand
To put in in relatively simple words, Saga is a big successful corporation based in China. However, due to the large profit it made, this company decided to expand its business in many other countries like Germany,
Brazil, Mexico, Sweden, and of course, let's not forget the USA.
As for the products it sells, Saga is specialized in many types of high tech devices, mainly described as computer numerical controlled equipment, like engravers.
But what does this manufacturer excel at? Well, you should have guessed it by now: vinyl cutters. From the simplest and most basic machine available at the cheapest of prices, going up to the more advanced, precise and meticulous ones, you can find all types of devices.
Now that we've highlighted the obvious, let's see what the "Saga Standard Stepper 720I" vinyl cutter has to offer.
What comes with the Saga Standard Stepper 720I
First things first: If you buy this machine, what are the different objects and accessories you will obtain with it? keep scrolling!
Cutting Plotter
Cutting Plotter Stand (dismantled)
Power Lead
USB connection lead
RS-232 connection lead
Knife Holder
3 Drag Knives
Penholder and pen
User manual
1 Spanner, 1 hex key
CD with software and drivers
Saga Standard Stepper 720I: control panel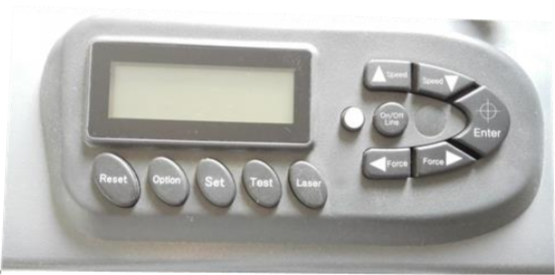 As you can see, the control panel of this device is quite a simple one to understand. It's basic, not offering lots of options and features like the Brother scan and cut 2 CM350 with its touchscreen.
Anyway, let's analyze what it has to offer step by step:
LCD screen: to display function and error messages.
Reset: to restart
Option: function keys.
Set: to set up function, can change XP/YP, Tool offset, sensitivity.
Test: to perform cutting tests. This button will send a 1" triangle in a square test coupon to the cutter. I recommend you to use this feature each time you change your vinyl or the material you want to cut. This test coupon does not have blade adjustements.
Laser: On/Off laser.
Speed up or down: to adjust the value of the cutting speed.
Force up or down:to adjust the value of the cutting force or the blade's pressure.
The software
The Saga constructor did not provide a specially dedicated software for the Saga Standard Stepper 720I machine. It's quite disappointing and proves the lack of commitment provided to this device.
However, no worries are needed. There are several existing software that can support this vinyl cutter, such as Dragon Cut, Flexi, ArtCut, SignCut, etc…
There are not the most popular ones available, but I'm quite certain that with a little research on the internet, you will find exactly what's the best one suited for your needs. In the meanwhile, here is a quick tutorial on how to use the basics of Dragon Cut if you are interested.

Saga Standard Stepper 720I: Technical features
| | |
| --- | --- |
| Max media width | 28.34 in (720 mm) |
| Max cutting width | 24.8 in (630 mm) |
| Accuracy | +/- 0.002 in (0.05 mm) |
| Power consumption | Below 100 W |
| Net weight | 55.12 lbs(25 kgs) |
| Dimensions | 39x13.4x17 in (99 x 34 x 43cm) |
| Max speed | 31.5 in/s (800 mm/s) |
| Cutting force | 1.12 lbs (0-510g) |
Saga Standard Stepper 720I: Pros and cons
Pros
Cons
-Extremely simple to use
-Expensive
-No blade adjusting feature
-No smart dial technology: You are responsible for setting the speed and the pressure of the cuttings
-Almost no connectivity: No Bluetooth, no Wifi, only USB connections
-No scan features
-There are almost no feedbacks on the product
Conclusion
Well, I guess that we can wrap up the things we've seen so far. In short, the Saga standard Stepper 720I is a really basic product, not offering quite advanced features as we hoped for.
Although it has a pretty high price, one should expect to find some neat features to compensate for this downside. However, this does not seem to be the case.
On top of that there is almost no feedback on this machine, but if you belong to the few persons that like to try things by themselves, then you may stumble across a very good product, who knows.
If you don't feel the urge to do that, then check out this test about the Sizzix eclips2 vinyl cutter,a well-reputed machine that can seduce you by its cheap price and cool features.
Summary
Reviewer
Review Date
Reviewed Item
Saga Standard Stepper 720I
Author Rating