We all know that a vinyl cutting machine is a good investment for you to go for if you are looking to create countless of designs for your parties, or if you are looking to earn some money alongside your heat press machine as a side job, and sometimes even as a main job.
For now, and to extend your knowledge about the different machines available on the market, I've decided to take you through the "Sizzix eclips2" review.
We are going to explore all the features it has to offer, understand how it works, know its strength and weaknesses, and most importantly, compare it with its older version, the "Sizzix eclips".
The brand
Sizzix is a well-known brand name that sells products mainly categorized as die cutting machines and embossing solutions. These products are manufactured by "Ellison".
This company does indeed stand for quality and innovation. It earned many rewards and honors like The Golden Press Kit Award at the Craft and Hobby Association in the summer of 2012.
The design
The Sizzix eclips2 vinyl cutting machine does come with relatively big dimensions (26″x6.5″x7″). However, it has a neat blue and white design that will let it shine in any room you place it in. Keep in mind that this machine doesn't provide a storage area in which you can stock in it its accessories.
What comes with the Sizzix eclips2
We can't start talking about performance and features without taking a look at the different accessories offered with this device:
A 12″x12″ mat
A blade holder that can adjust the depth of the cut
Two regular blades
A six-foot USB cord
An AC adapter
A free version of eCAL lite Software Download
Users guide: Not very detailed, if you want more precise information on some DIY projects, check out some online videos.
Cutting capabilities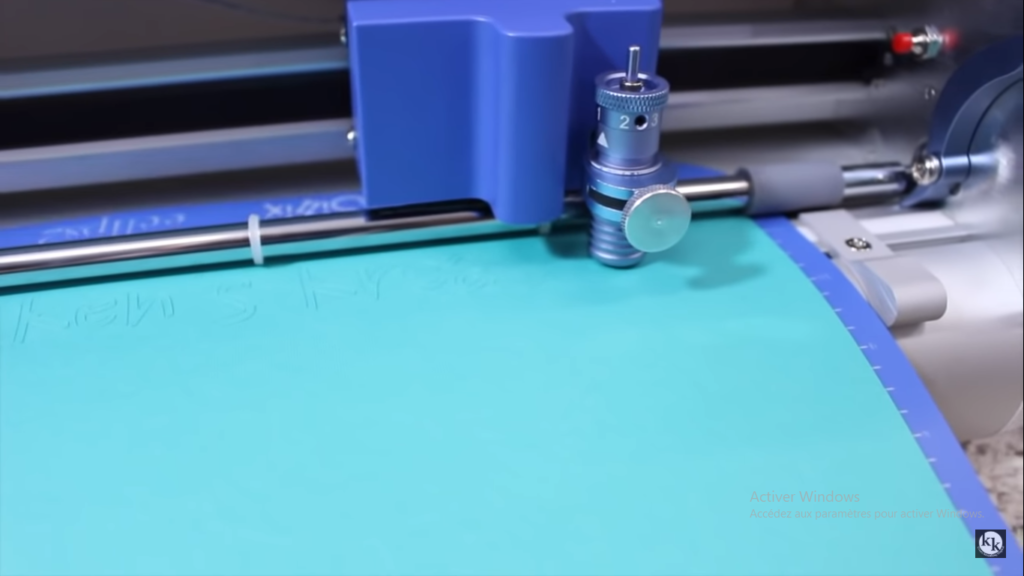 For precise and gentle cuttings, Sizzix eclips2 can provide you with cut sizes that approximate the 1/100 of an inch. If you are looking to cut wide objects, then the maximum that the blades can bare is 0.5 mm (approximately 0.02 inch).
However, you must strongly acknowledge the fact that this machine does not provide you with automatic blade adjustment according to the thickness of the material you are using like the Brother scanNcut dx SDX 125.
You must adjust the height of the blade manually. Here are the different types of materials you can cut with this machine:
Cardstock, Craft, Plastic, Grungepaper, Vellum, Chipboard, Mat Board, Fabric, Leather, Vinyl, Felt, Poly, Foam, Wood Veneer, Cork, Flexible Magnet, Rubber, Craft Metal, Grungeboard, Shrink Plastic.
The software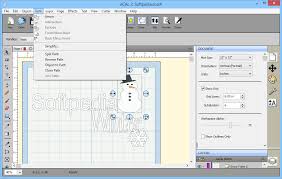 I may have pointed out in the beginning, that buying this machine comes with the perks of having a "free to use" version of the software responsible for controlling the Sizzix eclipls2 device.
This software is called eCAL lite. What does this software offer as features? Well, in short, it will help you create multiple types of designs, unique shapes, combine multiple shapes and letters into one cut, etc… Below, you will see a tutorial on how to use this software with detailed information.
However, the free version of eCAL lite is considered to be one of the most basics available at the moment. It's completely destined for beginners with limited knowledge about these kinds of software. That's why Sizzix does offer an upgraded version which has these additional features quoted from the Sizzix website:
Import various file formats, including SVG
Auto tracing feature to automatically convert images (including jpg, bmp, gif, png) for cutting
Create rhinestone templates and Lattice shapes
The Print-2-Cut feature that allows you to print out an image and have the eclips Machine cut around the printed image
Click here if you want to purchase the upgraded version of the eCAL software.
Laser Cut review feature
Don't you all love to see a preview of your cuttings before even initiating the cutting act? Well, with eclips2, this desire has become reality!
With the laser Cut preview feature, you will be able to take a sneak peek of the cut without actually cutting the material itself. You will be able to tell where that cut is on your mat, thus, you will have the chance to adjust without losing any materials! This is pretty handy if you ask me.
Sizzix eclips2 vs Sizzix eclips
Just like we would expect from an upgraded version, overall, eclips2 is considered to be a better choice than its older version eclips.
For starters, the motor has been completely reworked to offer more power, viability, and stability. It can apply up to 600 grams ( 1.32 pounds) of force to its blade. Although it's slightly powerful than the previous one, this kind of force can't withstand strong materials like rubber, leather or sheet metal.
Moreover, eclips2 does offer a more imposing overall dimension than eclips, and most importantly you can forget about using cartridges, and also, it has a nice quite working process.
Lastly, but this time as a downside, the upgraded unit does not contain a handheld controller, this does certainly explain the more pocket-friendly price.
Pros of Sizzix eclips2
Precise cuttings
No cartridges required
Laser Cut Preview feature for last minutes adjustments
Adjustable blade depth
True Scoring: guaranteed clean folds every time, and no more perforations expected
Compatible with Mac, Windows, and Android
Relatively cheap machine
Cons of Sizzix eclips2
No smart dial technology: You are responsible for setting the speed and the pressure of the cuttings, but there are some predefined settings
No automatic blade adjustment
The free eCal lite software version is very basic
Almost no connectivity: No Bluetooth, no Wifi, only USB connections
Sizzix eclips 2 preview video
Conclusion
Now that the Sizzix eclips2 review has come to an end, we can consider that this device is a neat vinyl cutting machine that offers all the required features for you to realize good cuttings.
However, it lacks more advanced functions that can allow you to extend your creativity to a whole new level, such as the scanner or the connectivity.
But with its current price and the nice ratings it received around the internet, we certainly can't complain about that. If you are interested to see a vinyl cutting machine that has a lot more to offer, then check out this review.
Summary
Reviewer
Review Date
Reviewed Item
Author Rating