What is and how to use a vinyl cutter?
As you know, starting a fabrics printing business does require you to own lots of equipements. We can easily identify the obvious ones such as the printer, the heat press machine or the transfer paper.
But what about vinnyl cutters? These machines aren't always considered but however, they add much more value to your work, and can highlight the difference between a regular business not using one, and an advanced business working with this machine.
After reading this article, you will be able to identify, understand these devices, and most importantly, you will be able to use one when you complete reading the "how to use a vinyl cutter section". Now without further ado let's start!
What is a vinyl cutter?
To keep it relatively simple, a vinyl cutter is a machine controlled by a computer or by an iternal computer.
It cuts different shapes and letters into thin self-adhesive plastic sheets (vinyl), according to a vector image of the expected result.
The smallest vinyl cutters are reminiscent of desktop printers in term of design. So in sum, this machine is very useful to transfer designs and logos in vinyl by cutting the surplus of these sheets, and keeping only what you need to transfer to your fabrics.
How does a vinyl cutter work?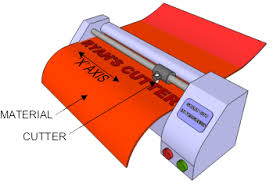 The vinyl cutter is equipped with a thin blade allowing precise cutting. The blade moves from right to left while the vinyl slides under it. This displacement along the two axes of a plan surface allows a wide range of cutting options. The image is then cut from the material of the support (sheet, vinyl). It is possible to keep the cut of the image, or conversely the outline of the image, in particular to create stencils. The limit of a vinyl cut is the color management: for multi-color projects, it is necessary to proceed by superposed layers of different colors. Despite a subtle color management, vinyl is widely used because the results are very durable (fade resistance, quality). Vinyl comes with a wide range of colors and materials.
Vinyl cutter blades differences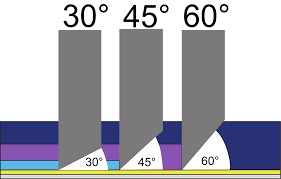 For every existing machine, there are several precautions that you need to consider in order to ensure the maximum of the device's efficiency, and vinyl cutters are no exception to that. Although, the performance of your cutting is strongly related to the type, brand and features of your machine, there is however an aspect that you can control: The angle of the blade.
Tracer blades angles are commonly set at the standard 30, 45, or 60 degrees. Keep in mind that depending on that, you will get different results. For example, the 30 degrees blades are perfect for standard sized graphics on thin vinyl sheets, while the 45 degrees blades do a great job on the PVC plasticized vinyls. Lastly, the 60 degrees blades are perfect for thick vinyls since the depth of the cut will be the greatest amongst all the other angles.
When to replace your vinyl cutter's blade?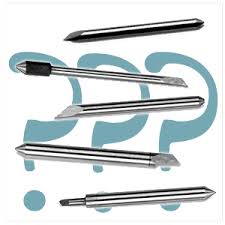 This is a typical question and it has a typical answer as well. The blade of your machine does certainly have a lifespan in which it will perform its task in the most efficient way. However, after noticing the drop of cuttings quality into your vinyl sheets, you will certainly have to replace the blade. For how much time can a blade be viable? Well, it's hard to tell, because it depends on the quality, and most importantly the frequency of usage and the types of vinyls you are using it on. If you perform your tasks on pretty thick sheets, the lifespan of your blade will certainly drop faster than on thin ones.
How to use a vinyl cutter?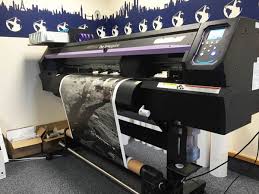 Following the steps enlisted below, you will be able to use the standard vinyl cutter without encountering any major problems.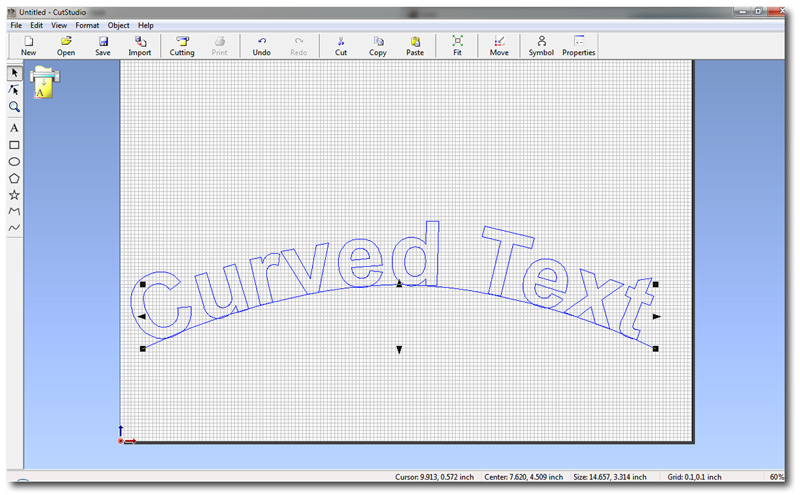 Create your design: there is various software that can allow you to create your logo or design, so choose wisely. I would recommend the most common and popular one which is of course PhotoShop. Do not forget to save the image as JPEG, because the standard software that runs your average vinyl cutter will probably work with this format.
Scaleable Vector Graphic (.SVG) can work fine as well. Also some Vinyl cutting machine has their own software which can be free .
Set up your vinyl cutter software: While most of vinyl cutter machines do have their own specific software, there are however some successful and popular programs that do work on many brands, and do offer more features, like EASY CUT STUDIO, or INKSCAPE if you are looking for a free to use version.
I have chosen Cut Studio as an example : Open it, and import your desired image. Right click on the image, then choose the "Trace Image Outline" option.
A dialog box will show up: Adjust the accuracy of the cuts with it.
Click the Move button on the upper right to put the outline in the bottom right of the design area.
Now, delete the picture.
Right click on the picture and choose "property".
choose the size that will fit your vinyl sheet.
Create a circle or box around your image to make it easier to seperate the "needed parts" from the unwanted ones of your vinyl sheet.
Now connect your vinyl cutter to your computer.
Load your vinyl sheet to your vinyl cutter.
Set your blade depending on the angle you want.
Start the printing process from your machine or the software of your computer. Take not that the format of your design should be supported by your vinyl cutter.
Now, the weeding process: use a little picker and start by peeling your sheet from its corner. Now you should be all set to use your heat press machine. Some vinyl cutting machines has small spatulas with them to remove the results of the cuts.
Even though the previous steps are destined for Cut studio, most of the available software in the market does follow the same workflow.
Conclusion
Now, we can safely assume that you have all the required background to understand and use a vinyl cutter. If you want to see reviews on some vinyl cutters or some heat press machines, then don't hesitate to check my other articles availabe on this website. For instance, you might be interested by the brother ScaNCut CM350.