Are you looking for a good and reliable vinly cutting machine but you're hesitating on what to pick?
well, if you are here, that means that you've came across the "Cricut maker" machine, and you want to make sure that it's really worth the trouble, don't you?
If that's the case, then you've come to the right place! This article is 100% dedicated to the Cricut maker review. That means that we will explore together all the features and functionalities of this machine. We will also highlight its pros and cons, and we will close with a nice user's reviews so that you can see by yourself what have been said about this vinyl cutter.
Cricut maker: What's included in the box?
Besides the secondary accessories that you can buy separately from Cricut, let's take a look at the thing you get with the Cricut maker at first hand:
Cricut Maker® machine • Rotary Blade + Drive Housing Premium Fine-Point Blade + Housing

Fine Point Pen, Black

FabricGrip™ Mat, 12″ x 12″ (30.5 cm x 30.5 cm)

LightGrip Mat, 12″ x 12″ (30.5 cm x 30.5 cm)

Welcome Book

USB cable

Power adapter

Free trial membership to Cricut Access™ (for new subscribers)

50 free ready-to-make projects, including 25 sewing patterns

Materials for a practice project
Cricut maker: The design
Let's start to contemplate in what design and colors Cricut is selling the Cricut maker.
The first two options which are the regular ones are a light blue design and a rose one. Pretty neat and simple, they are considered to be the number one choice for your average user.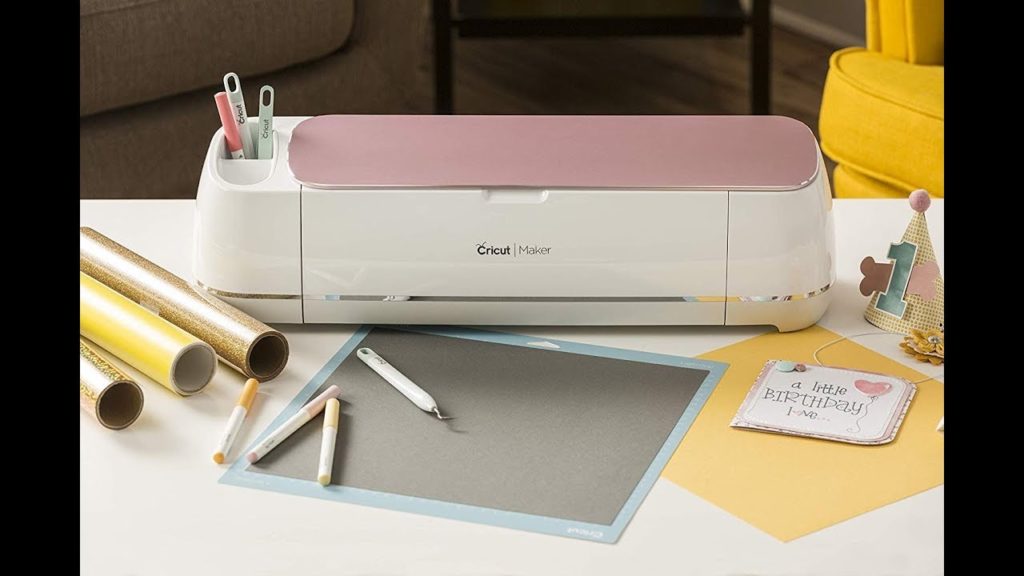 However, this time, Cricut thought of changing the rules: They created a champagne version of the Cricut Maker.
I personally vouch for the third choice, as it reflects the uniqueness of your vinyl cutting machine, compared to the mainstream blue and rose ones.
Just like the Cricut explore air2, the Cricut maker does provide a storage room for your extra accessories. But keep in mind that it's not wide enough to place evertything you need in it, so prioritize the objects that you use the most to place them in it.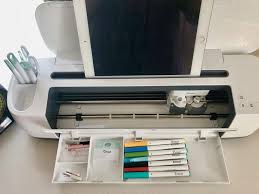 Cricut maker: cutting capabilities
This is the most important thing to consider before initiating any financial transaction, and it's also true for any kind of product you want to buy.
To keep it in relatively simple words, this machine is destined to cut shapes and designs from various types of papers, fabrics, and materials.
But what are the materials that you can cut with the Cricut maker? Apparently, this machine is capable of cutting over 100 types of different materials, so we can't cover all of them in this article, but here are the main families of objects you can use it on:
Cardstock and Paper
Vinyl
Iron on vinyl
Fabrics and Textiles including leather
Many other materials like aluminum sheets, magnet sheets, metallic vellum, etc…
If you are interested to see all the materials that you can cut with the Cricut Maker, then take a look at this post.
Rotary blade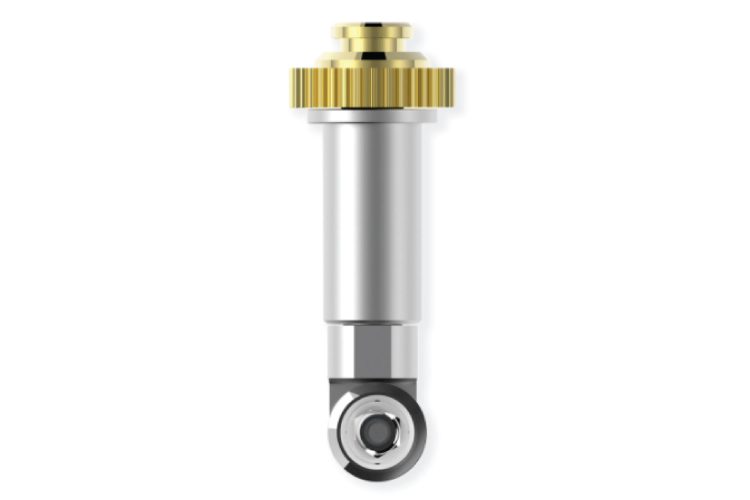 This is a new feature added to the Cricut vinyl cutting machines, and the Cricut Maker is certainly the first one to adopt it.
So, what's the rotary blade? Well, it's kinda simple to understand acutually. This revolutionary blade will allow you to cut patterns and shapes with incredible precision in any kind of fabrics imaginable.
It's an advanced technology, more accurate, more efficient, and more time-saving than the manual scissor method.
The Cricut manufacturers did also point out that with this rotary blade, you can take on to any kind of tissue, starting from the lightest of silk fabrics, going up to the thickest like the canvas ones.
Here is a demonstrative video of a Cricut maker, doing some neat cuttings on some fabrics. Enjoy!
Knife Blade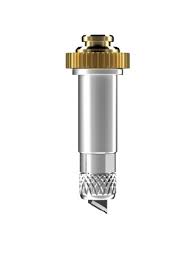 The Cricut maker comes also with antoher blade attachement known as the knife blade.
It's practical to cut extremely wide materials that have a 3/32″ of thickness. Its efficiency and sharpness is very much compared to a X-ACTO knife. Needless to say, with this kind of knife, you will obtain extremely satisfying results without having to deal with the unwanted track marks.
Unfortunately, this blade is sold as a secondary item, so you won't have it in your preordered box of your Cricut maker. If you think that you will absolutely need it, don't hesitate to make a purchase as soon as possible.
Fine Point Blade
We've seen so far a knife made especially for fabrics, another one for thick items, but what about one destined to cut medium and thin materials?
Well, with the fine point blade, cutting these kinds of materials is very much possible.
Thanks to its advanced German technology, this carbide fine blade will certainly last you for a very long time.
Deep Point Blade
The deep point blade is certainly the one that's destined to cut items like thick cardstocks.
It provides a cutting angle approximating the 60°. That's more superior than your average 45° blade. On top of that, it's made from durable steel and a custom-made housing, that means that you will pretty much use it for years on regular basis, without having the need to replace it. Sweet!
Blades comparaison
Let's take a look at the different blades available for the Cricut maker, side by side: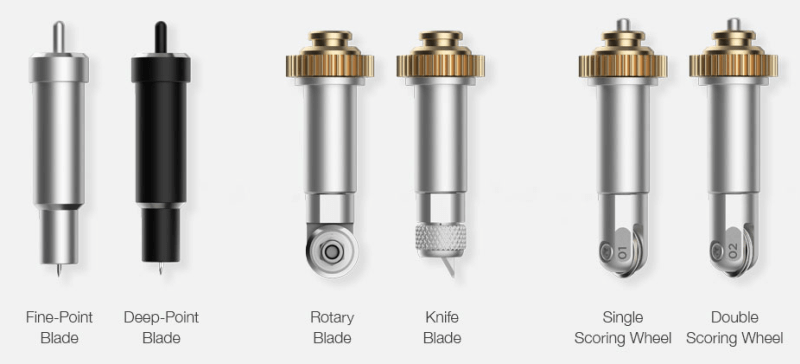 Cricut maker's cutting power
I got good news for you! Imagine having a vinyl cutting machine that has 10 times the power of the Cricut explore air 2. That seems like a fantasy right?
Well, let's set the record straight. The Cricut maker does provide 10 times the power of the Cricut explore air 2, and that's a fact. With this capability, you can cut anything that isn't thicker than 2.4 mm (3/32")
Take a look at this video where the Cricut maker is cutting some Bass wood:
Cricut maker's pens
Every die cutting machine's fan would never say no to a vinyl cutting device capable of drawing shapes and designs besides its regular cutting feature.
Well, personally, I couldn't resist the urge to own such a multifunctional machine in my own home.
Going straight to the point, the Cricut maker will allow you to work with different kinds of pens, with also different colors. You can expand your creations to a whole new level. The only limitation you can find is your own imagination.
Looking to make some instructional notes on your fabrics? Well, it's possible with the washable ink of the pen 1.0. The possibilities are almost endless.
Cricut maker's connectivity
Just like any vinyl cutting machine, the Cricut maker offers a USB connection to allow your comptuer to be coupled with it.
However, unlike your average die cutting machine, this one also provides a Bluetooth connection. This is a well-appreciated feature that will permit you to work without the inconvenience of having a connection cable.
If you want a guiding document that can help you pair your Cricut maker with your operating device, click here!
Software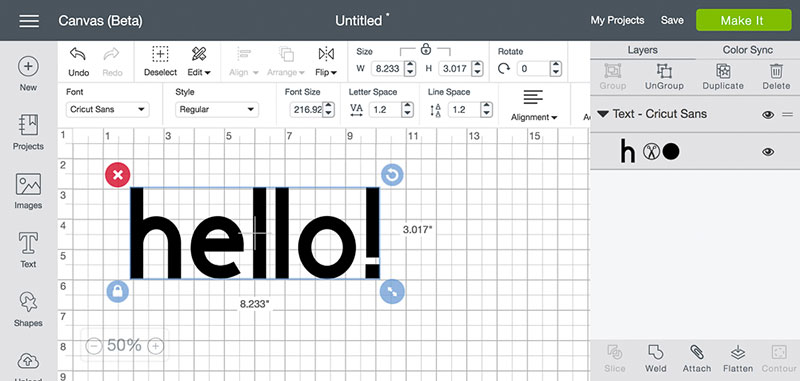 Here is where things are starting to become a little bit disappointing in our Cricut maker review. Unlike what we've hoped for, Cricut maker does function with the web-based software "Design Space".
I'm not saying that this software is a bad one, on the contrary, I find it pretty useful and practical as it encountered countless updates and improvements over the years.
However, having the constraint of working only while you have an internet connection is a pretty annoying condition to have.
Pros of the Cricut maker
Best Cricut vinyl cutting machine for fabrics(the only one with the rotary blade )

Extremely performant on thick materials ( the only one that uses the knife blade)
Can cut up to 100 different materials
10 times the cutting power of other Cricut machines
2 times faster mode for vinyl and paper

Designed to use the Sewing Pattern Library.

Unlimited access to Cricut's sewing pattern library

Allows Bluetooth connections

Integrated iPad/iPhone mount on top of the machine

Cons of the Cricut maker
The machine isn't wide enough to cut large items (only supports
12″ wide by 24″ long)
The knife blade isn't included with the machine( has to be ordered separately)
Limited software usage (requires internet connection)
You can't easily load your pre-existing sewing patterns into the Design Space software
Users feedback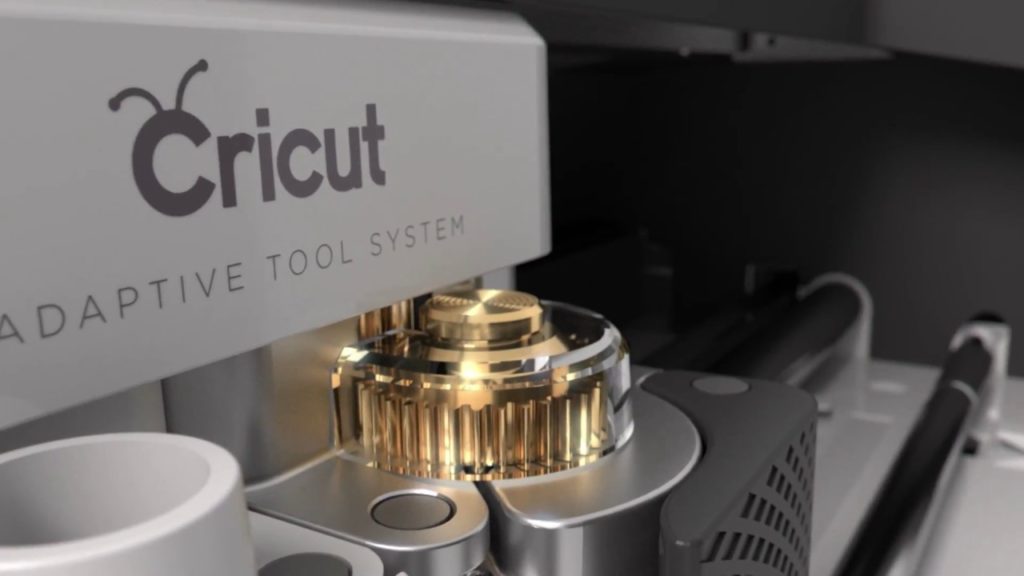 It has been only a few months since the release of the Cricut maker, and unlike what you would expect to hear on a first version, this machine did certainly encounter a huge success.
People just loved how fast and precise this machine is. On top of that, with the ability to cut such a huge range of materials, the majority did react positively and made a clear statement: " The Cricut maker is a good investment to make".
However, we can't ignore the minority that did point out the obvious: The software really needs to be updated on certain points, such as for the connectivity ( you need an internet connection to use it), and also for the scaling feature of your designs.
Cricut maker: the price
If you are interested to see the price of the Cricut maker, click here for the Rose color:
Click here if you want the Champagne color:
Conclusion
Now that our Cricut maker review has come to an end, i'm really hoping that you've grasped all the features that this machine has to offer. Remember, if you have encounterd some fussy points, don't hesitate to drop a comment below! If you want to take a look at a simpler and cheaper vinyl cutting machine, then my Sizzix eclipse2 review will certainly interest you.
Summary
Reviewer
Review Date
Reviewed Item
Author Rating