Powerpress heat press reviews
If you are here, it's probably because you are searching for a good heat press machine, but you have found so many brands that offer a multitude of choices around the net, so what to chose? Well, you don't need to worry anymore! In this article, I will shed some light about some machines made by one of the best selling heat press brand in the world which is Powerpress.
I will take you through the specifications, pros and eventually the flaws of these products. The goal of this article is to help you choose a heat press machine which will suit your needs.
If you are in a hurry, here are the best picks from our Powerpress heat press reviews.
The brand
Powerpress is a Chinese manufacturer of heat press machines and eventual accessories used alongside these devices They have been established since 2005 as heat a press machines manufacturer. From their website, they seem to be experienced and ambitious enough with their products.
Let's go straight to our individual products reviews.
Powerpress HPM-1515
The Powerpress HPM-1515 is a heat press machine made of a 15*15 inches heating platens. It is suitable to print Tshirts and flat items. An interesting feature about this machine is its Teflon coated heating platen. With it, you won't need to buy Teflon coated sheets anymore. With this feature, you will have extra protection for both your heat press and your fabrics as well.
The HPM-1515 comes with a usual LCD control board. It enables the user to control fully the digital temperature and the time. The timer is a classical one. There is nothing to brag about. It ranges from 0 to 999 seconds. The temperature, however, ranges from 0° Fahrenheit to 450°. This is more than enough to print designs on almost all the fabrics that exist.
As for any respectable heat press machine, it is possible to control the pressure you can apply with the Powerpress HPM-1515. As stated in the video below, the more pressure you add, the more strength you will need to close the machine.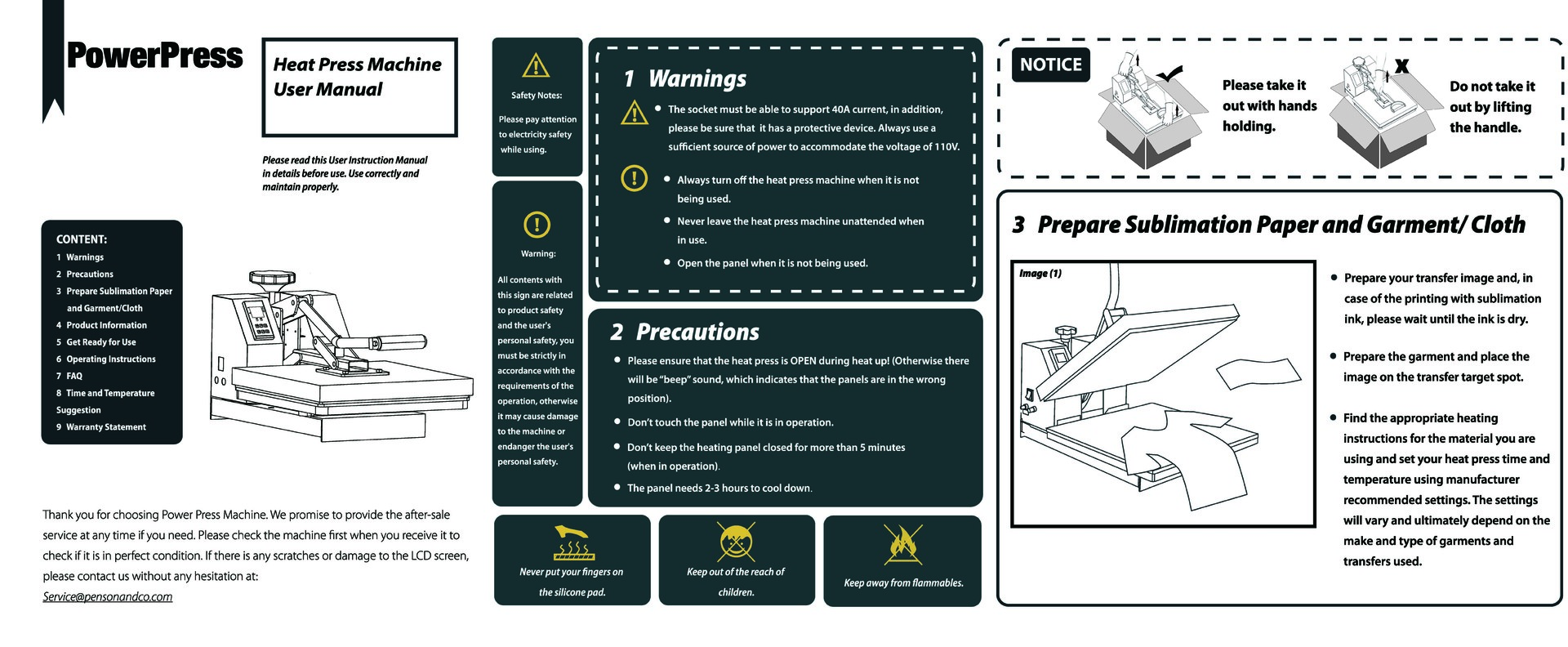 Finally, what is a bit disappointing about the HPM-1515 is that it is a clamshell machine. I said it in my other articles, clamshell machines, in general, are less safer than the swing away heat press machines.
Pros
Cons
- Teflon coated heating plate
- 15*15 heating plate
- Wide customers base with positive reviews
- Machine is made to last
- Good customer reviews
- A bit unsafe to use
Powerpress HPM15 5 in 1
Powerpress provides also a multifunction heat press machine: the HPM15 POWER 5 in 1 heat press. With its 15*12 inches heating platen, you can expect to print almost all of your desired designs using it.
As expected from a multifunction heat press machine, it comes with a mug press, a hat press, and 2 plates presses. The mugs press is for cups of a diameter between 3 and 3.5 inches. The heating hat is for hats which have curves of 6*3 inches. Finally, the plates presses are for plates of maximum diameter, respectively, of 5 inches and 6 inches.
The temperature ranges up to 480 Fahrenheit. I clearly said many times that this is more than enough for usual items.
As for its sister, the pressure on this machine is controllable via the pressure knob.
Lastly, the main difference in design between the two is that this one is a swing away machine, so, it is supposed to be safer and easier to use.
The feedbacks of the HPM15 5 in 1, unlike the HPM-1515 are mitigated. Some did appreciate the product while others had several problems with it. The main problem the majority of them faced, is that a part of the handle broke out.
| Pros | Cons |
| --- | --- |
| - Everything needed for printing on several objects is there | - Handle is not robust enough |
Powerpress HPM000
The Powerpress HPM000 is a different grade of heat press machines. It is similar to the Cricut easy press family of products. If you know how to use an iron, you have the required background to wield it.
All you need to do is to select the temperature and the time required via the touch screen of the machine, set the user transfer paper on the item then apply pressure on your object for several seconds. Of course, you need to take additional care. For instance, you need to put a heat resistant mat on a flat, rigid surface, then put your item on it.
The plate of this machine is a 10*12 inches. So, do not expect to print big designs. What is also interesting about this device is its lightweight. Only 8.5 Lbs( almost 4 Kilograms). This makes it easy to move and carry.
This machine is clearly designed for people to use at home. In order to protect you and your family members, the Powerpress HPM000 comes with additional safety features. For instance, there is a safety overheating system which shut off the machine when it overheats. Also, the top of the machine doesn't heat up like standard heat presses.
Pros
Cons
– One of the safest machines on the market
– Nice machine for domestic use
– Does the job
– Touch screen control panel
– Pressure regulating system
– Safe anti-overheating system
– Fully assembled and ready to use
- Suitable only for small and medium size flat objects
- Render can be a bit imprecise compared to other heat presses
Conclusion

Now, we came across the end of our Powerpress heat press reviews. Here, the choices you have are clear. If you want a heat press machine for Tshirts only, I really recommend you to use the Powerpress HPM-1515 heat press. If you are looking for a multifunction machine, do not go for the 5 in 1 from Powerpress. Instead, I strongly recommend you to pick the Vevor 5 in 1 12*15 machine which I review in this article.
>>>>Check Powerpress HPM-1515<<<<
Finally, for home use on small items, the Powerpress HPM000 is an excellent choice.
>>>>Check Powerpress HPM000<<<<
If you have questions, do not hesitate to drop a comment below!
Summary
Reviewer
Review Date
Reviewed Item
Powerpress heat press machines
Author Rating