Silhouette Cameo machines reviews
If you are looking for a vinyl cutting machine, you have probably stumbled upon Silhouette machines. If you have questions in particular about the Cameo 2 and Cameo 3, this is the perfect place for you to get started then.
After presenting both machines, I will compare cameo 2 with cameo 3. After that, we will see briefly the differences that exist between the famous Cricut explore air 2 with the silhouette cameo 3.
Let's declare Silhouette Cameo machines reviews officially started then!
A bit of history: who is silhouette?
Silhouette is an American company founded in 2009 specialized in products for the arts and crafting industry. They offer machines for materials cutting such as the cameo 3 and portrait 2.
Also, they sell their own 3 D printing machine and their own software to unlock their customer's creativity… At least on paper. If you want to see if they really reached their goals, keep reading.
Silhouette cameo 2 features review
Quick summary
If you are in a hurry here are the main features and items provided with the Cameo 2:
Touch screen
USB connectivity to Windows and Mac
Silhouette studio is provided with it
12″*12″ cutting mat
Mat-less cutting capability to cut materials up to 10 feet long
Built-in accessory storage
1/32″ (0.8 mm) cutting clearance
The appearance
The silhouette cameo 2 is a vinyl cutting machine. It is the spiritual successor of the silhouette cameo, the founding father of the Cameo family.
The cameo 2 has an 11 x 11 x 24 inches dimension. It has also particular design when compared to other vinyl cutting machines such as the ScaNcut from brother and the explore from Cricut. They picked up its colors to make it look simple and elegant.

Silhouette chose to remove all the buttons from its machine by integrating a touch screen to it. Of course, the power button is still there.
Using the touch screen, users can change the language and also the colors of the interface in the limit of what is available of course.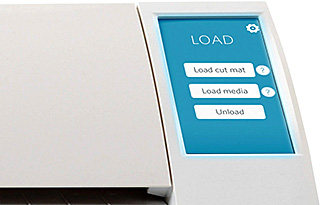 Print and cut
All the silhouette machines support the print and cut features. What is it? Simple. Let's take an example to understand it.
For instance, let's say you have a shape to transfer on a T-shirt using a heat press machine. What you would normally do is print it on a heat transfer paper. However, you only want the design without any excess material.
In this case, you have two choices: either cut it manually and hope for the best or use the Print and Cut feature. In a nutshell, with this feature, you can cut printed materials as long as they are printed using the Silhouette Studio.
Machine's usage
The cameo 2 can be used on more than 100 hundred different materials, at least according to Silhouette. They can cover up to 12 inches in width and 10 feet in long materials. Also, it is possible to use various types of blades depending on the materials to cut. However, the Silhouette Cameo 2 has only a cutting clearance of 1/32″ (0.8 mm).
This vinyl cutter can be used in a stand-alone mode without any computer thanks to its integrated USB port. By connecting a USB drive to it, you can load images on your machine and cut them directly. Another port is provided to connect it to your computer
It is important to note that you can't use the Cameo 2 directly. You need to plug it to a computer to be able to.
Normally, Silhouette provides Silhouette Studio with its devices. It is supposed to help users create their own designs and load them into their machines. Eventually, it is possible to buy designs if you are looking for inspiration somewhere else.
Cameo 2 is much appreciated by the community. They like the fact that it is easy to use, precise enough and finally, does the job as required.
The crosscutter
The crosscutter is a sort of paper-cutter located on the back of the machine. It is useful to cut long pieces of media. It lets you separate the finished cut job from the remaining media in one quick move.
Thanks to it, the cuts will be perfectly straight. The rest of the media can be used of course for a different project without any issues. The crosscutter will be particularly valuable if you will use rolls of vinyl.
Pixscan
Pixscan is a feature that lets you digitize your images and adapt them in order to cut them with the Silhouette machine. However, to use this capability, you need to place your material on Pixscan mat which is available at this link.
To learn more about this feature, I highly recommend you to watch the following video.
>>>> Check Pixscan Mat price <<<<
Pros and Cons
Here is the list of Silhouette Cameo 2
Easy to use
Excellent user guide
The wide availability of resources
Available spare parts
1-year warranty
Supports other vinyl cutting software
The print and cut capability
On the other hand, here are the cons of the Cameo 2:
Cuts thin materials only
1/32″ (0.8 mm) cutting clearance only
Not enough cutting force
Silhouette Studio's free edition is really limited compared to other software
>>>>Check extra roll feeder price<<<<
Silhouette Cameo 3 features review
Quick features
Again, if you are in a hurry, here the essentials to know about the Silhouette Cameo 3:
Using 2 different tools simultaneously with the dual carriage
Auto-blade feature for automatic adjustment of the cutting blade
Additional storage compartments
A reworked roller locking mechanism
12 inches cutting mat
Mat-less cutting capability to cut materials up to 10 feet long
Usb connection
Bluetooth connection
Provided with Silhouette studio
Cutting clearance up to 1/128″ (2mm)
Cameo 2 vs Cameo 3
Revised appearance and interfaces
Time to get serious now. The Cameo 3 came is the successor for the Cameo 2.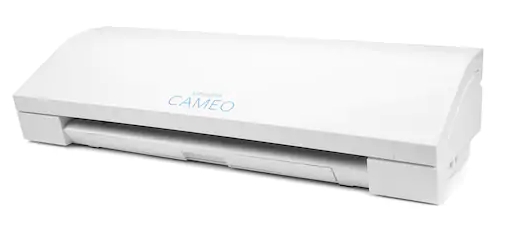 The first visible difference between the two machines is the appearance of the latter. The Cameo 3 now covers the LCD touch screen and most of the cutting area of the machine.
There is also another difference which is visible unless you have both the machines lined up together: Cameo 3 is much bigger than Cameo 2!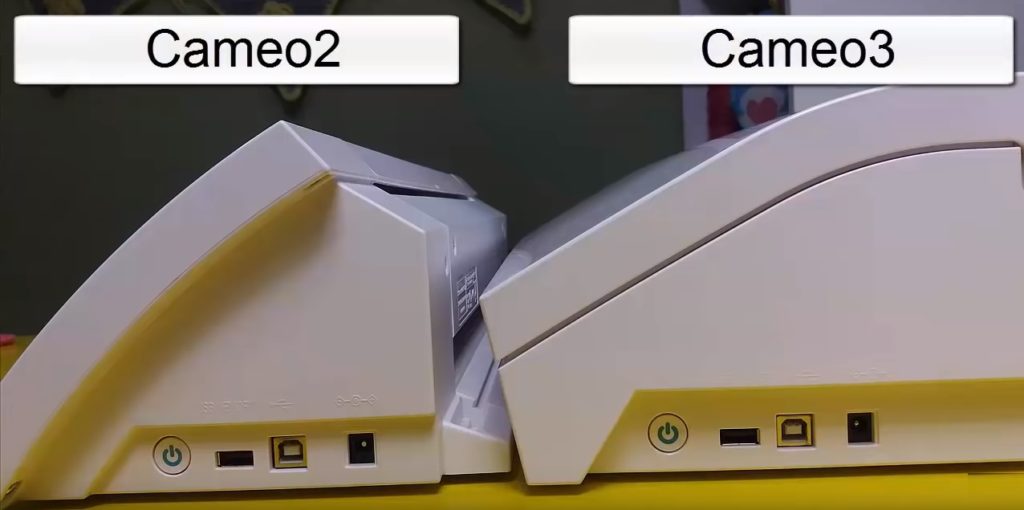 The Touch screen menu has been reworked too. Now it is possible to access some tutorials through the Cameo 3. Also, some audio alerts were added to prevent users from doing anything by mistake.
AutoBlade and cutting clearance
There are two major features in the silhoutette cameo 3 to get the job done.
Lets's go to the first one: the AutoBlade
Now, with the provided auto-blade, there is no need to adjust the blade height to the material to cut. All the user needs to do is to specify the material. The machine takes care of calibrating itself accordingly.No more excuses for missed cuts and errors.
The next improvement concerns the cutting clearance. From 1/32″ (0.8 mm) with the previous machine to 5/64″ (2mm), it is now possible to cut thicker materials. Of course, there is one condition. The "deep cut" blade is required for certain thicknesses.
Dual carriage
With the Silhouette Cameo 2, users can only use one accessory at once on their materials. Fortunately, this became a thing of the past with the Cameo 3.
Thanks to the dual carriage, the machine supports 2 accessories at once.
Drawing and cutting simultaneously is no more a dream.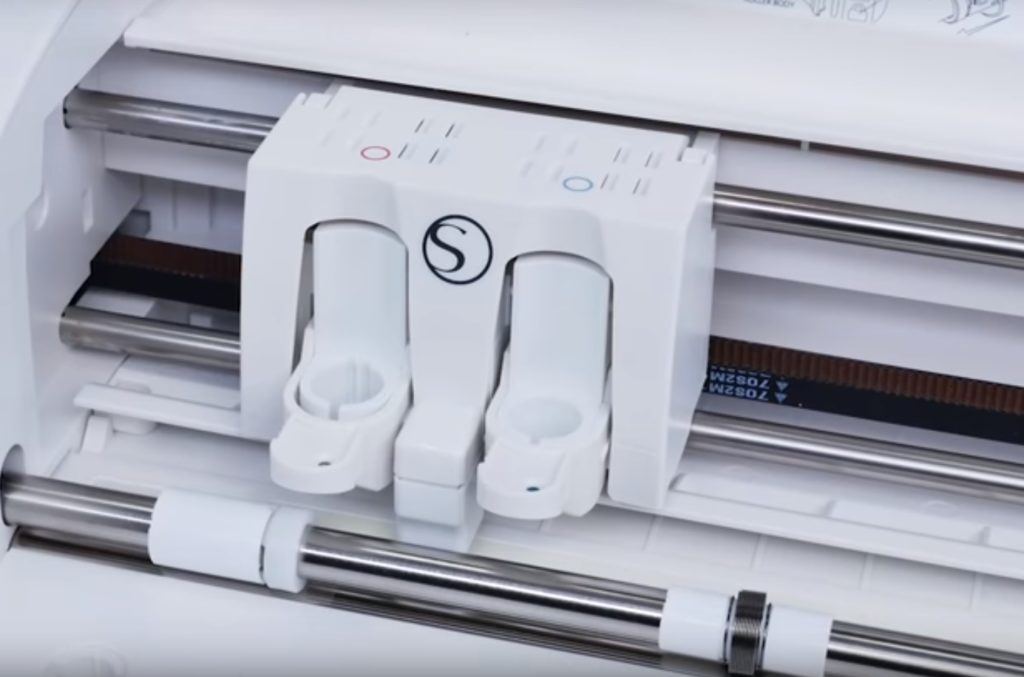 Storage
Did you ever wonder why Cameo 3 is a monster compared to Cameo 2? Well, one of the reasons behind this statement is the addition of a storage room.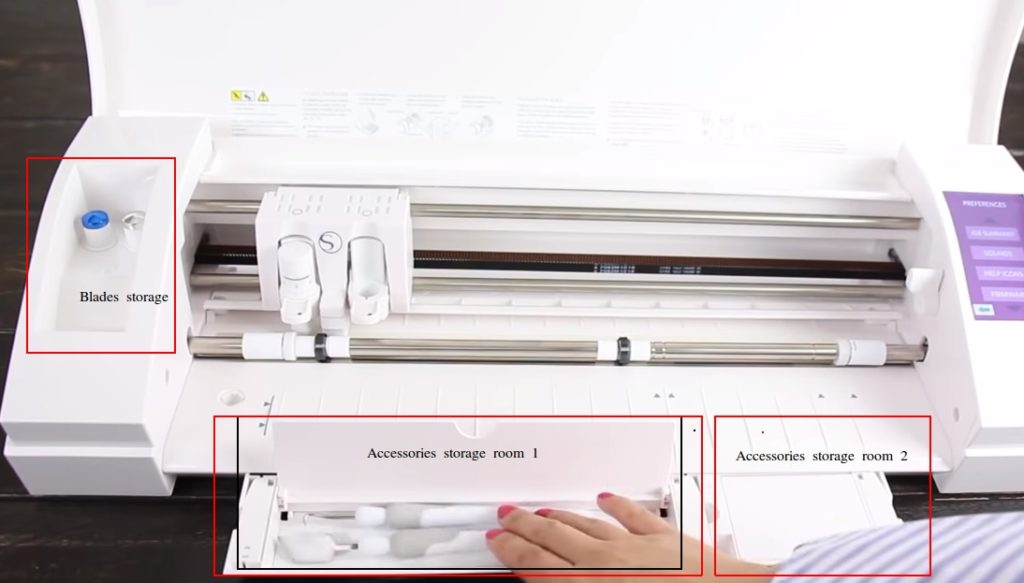 Connectivity
Like its big sister, the Cameo 3 has a USB port to load what is inside it in a USB drive. However, the hottest feature in regard to the connectivity is the integration of a Bluetooth connection. It is no more necessary to use a cable to connect the machine to a computer.
Software
No changes at this level. Both machines use the Silhouette studio. The same is true for Pixscan.
Customers reviews
The reviews are highly positive for this machine. The only thing staining its reputation is the limitation in cutting width and also the bugs in the free software. Except that, people from beginners to hardcore hobbyists seem to enjoy it.
Pros
The cameo 3 shares all the pros of its big sister. It is also capable of shining by itself:
Dual carriage functionality
The AutoBlade
Additional storage capacity
Wireless connectivity
Has its own software to get started quickly
Wide community and resources
1-year warranty
Reworked user experience
Print and scan feature
Cons
Still not powerful enough to cut thick materials
Silhouette Studio's free edition is really limited compared to other software
Silhouette Cameo 2 vs Cameo 3: summary
Here is a quick comparison summary for Silhouette cameo 2 vs Silhouette Cameo 3:
| Feature/accessory | Cameo 3 | Cameo 2 |
| --- | --- | --- |
| Usb connection | X | X |
| Extended storage room | X | |
| bluetooth connection | X | |
| AutoBlade | X | |
| Silhouette Studio support | X | X |
| Print & cut support | X | X |
| Pixscan support | X | X |
| 2mm cutting clearance | X | |
| Crosscutter | X | X |
For me, the best choice here is the silhouette Cameo 3 since the Cameo 2 is supposed to be discarded by Silhouette.
Cricut explore air 2 vs silhouette cameo 3
One of the direct competitors of the silhouette cameo 3 is the Cricut explore air 2. I believe it is important to understand the differences and the similarities between both machines to choose the best fit for your needs.
Ease of usage
Both machines are supposed to be easy to use. Both of them are intended to be used by beginners and hobbyists. People who used them can agree on one thing: it is not complicated to get started with them.
To be more specific, as we saw earlier, the Silhouette Cameo 3 has an integrated touch screen with an integrated sound to prevent users from any costly mistakes. It provides also tutorials for the users to quickly get started.
On the other hand, Cricut explore air 2 with its smart dial functionality provides quick calibration for several materials.
Take note that both machines have an automatic calibration for the blade width depending on the materials.
Both of them also support Bluetooth. With it, there is no need to plug it into a computer with a cable. Also, thanks to the Bluetooth connectivity, connecting them to a smartphone or a tablet becomes possible.
Materials width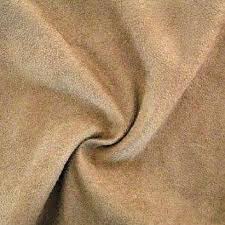 The Cricut explore air 2 has a maximum cutting size of 11.5 inches wide by 23.5 inches long. This is more than enough to attack most of the hobbyist projects.
On the other hand, the Cameo 3 has a maximum cutting size of 12 inches wide by 10 feet long as long as you have the roll feeder accessory. With it, it is possible to get advanced projects and cut vinyl in batches.
Still, by default, the maximum cutting size is 12 inches wide by 24 inches long which almost the same as for the explore air 2.
Cutting specs
For this part, we obviously have a winner which is … the Cricut explore air 2.
Thanks to its German carbide blades, precision has one synonym: Cricut explore air 2.
For the speed of execution, the Cricut air explore 2 is faster than the Silhouette Cameo 3.
Also, with the dual carriage functionality, drawing and cutting at the same time is no more a dream for both of the machines. Also, both of them can cut, theoretically at least, more than 100 materials.
Finally, the Silhouette Cameo 3 has a weaker cutting force than the Cricut explore air 2.
Software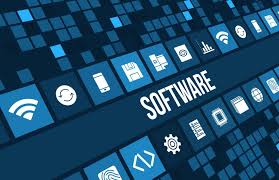 The two machines come with their respective software in their free to use versions.
Something that most people will agree on is that both software packages are really basic when compared to professional vinyl cutting software. but they have all that's required to get started.
Also, there are also paying versions for both of these softwares.
To be specific, Cricut's software, Cricut Design space offers its users paid libraries for designs. Same has to be said about Silhouette Studio. However, some experienced users will say the latter has richer designs to offer.
From a user perspective, Silhouette studio is richer than Cricut Design Space. This makes it slightly more difficult to handle. On the other hand, an interesting aspect about Silhouette studio is the possibility to easily digitize images and cut them after by using Print & Cut and Pixscan.
Finally, Silhouette studio is available for all Mac, Windows, Ios and, Android while Design Space isn't available for Android.
The winner for this round is .. the Silhouette Cameo 3 . You saw it coming, right?
Community
There is no doubt that both communities are mature enough and active for both of the machines. I will consider this a draw.
The price
The prices of the machines alone are quite similar. Still, there are bundles with different accessories which will have different prices depending on what is there.
This being said, blades are sold separably for the Cricut Explore air 2 and for Silhouette Cameo 3 too. However, they are slightly cheaper for Cameo 3 since the can come in packages of 3.
I believe that we can agree that both of these babies are a bit expensive to have.
>>>>Check Cricut air explore 2 price<<<<
>>>>Check Silhouette Cameo 3 price<<<<
Summary
| Feature | Silhouette Cameo 3 | Cricut explore air 2 |
| --- | --- | --- |
| Ease of use | ++ | +++ |
| Materials width | +++ | ++ |
| Cutting precision | ++ | +++ |
| Software quality | ++ | + |
| Price | + | + |
| Customers feedback | +++ | +++ |
For me, there is clearly no winner in this fight. If you are looking for a machine for complex designs which is fast, the Air explore 2 is an excellent match. If you are looking for one to cut large vinyl, you have no other choice than to consider the Silhouette Cameo 3 in this case.
Finally, I really advise you to read my article on the Explore machine from Cricut, if you like the explore air 2 but want something similar and cheaper at the same time.
Summary
Reviewer
Review Date
Reviewed Item
Silhouette Cameo machines
Author Rating