Brother Scan and cut dx SDX 125 review
Today, I am going to take you through another brother vinyl cutting machine from the scanNcut dx model. I am going to talk in particular about the dx SDX 125 which was released in the 2018 fall.
Since this is a brother machine it is worth it to spend some time to understand its features and evaluate it. Without any delay, lets start our review!
What to use for?
First, I have to define the scope of use of this little machine. In simple words, it's designed to be used for cutting, drawing, embossing and foiling.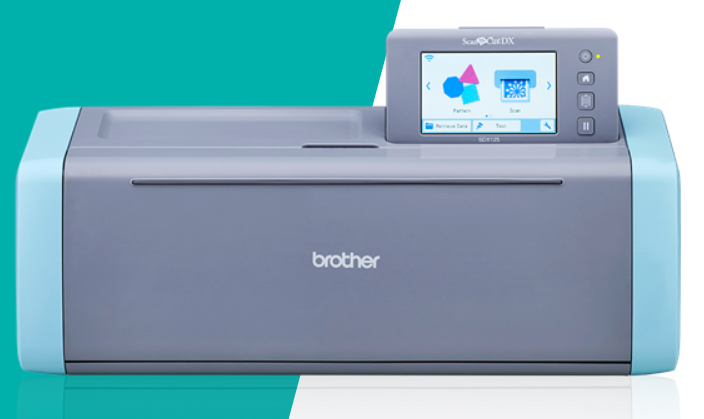 The design
The scanNcut sdx 125 is a 20.9 x 8.5 x 6.8 inches vinyl cutting machine. It contains also a storage room to let you keep all the related accessories in a single place. However, do not count on putting too much items in it since it is limited on space.
For the moment, the brother scan and cut dx sdx125 come only in grey and aqua. I personally don"t like how it looks but who knows, maybe they will release another edition with differents colors.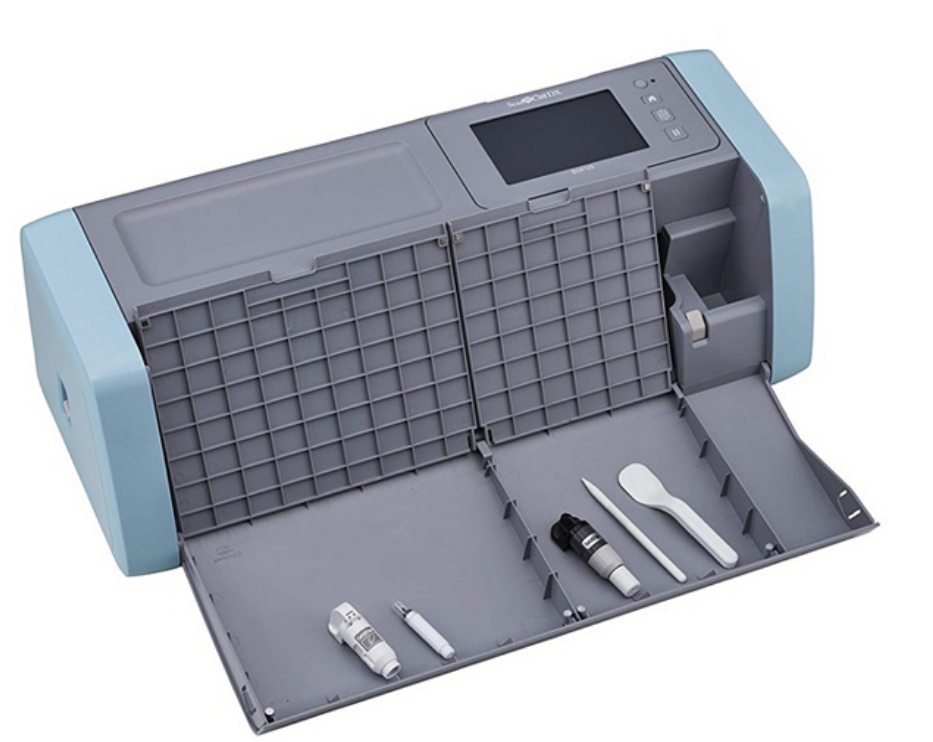 The user interface
The machine has 5 inches LCD touchscreen. To add precision to your selection, a stylus pen is included in the basic package. All of the required buttons of the machine are in the right of the screen. Don't expect anything extraordinary from them .
However, you can fold the screen of the machine which makes it easier to store. Finally, I personally like the interface. I find it easy to use and nice to look at.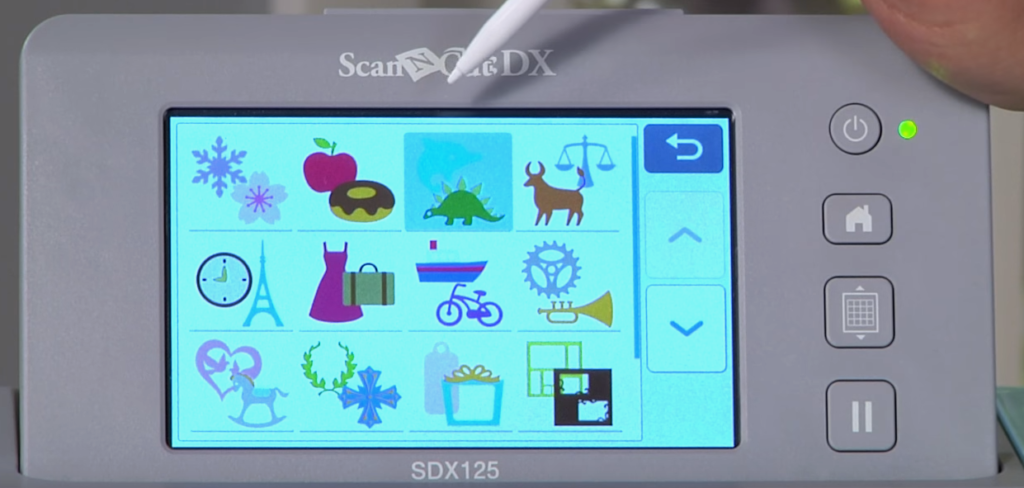 The scanner
One of the particularity of the ScanNcut machines in general is the scanner. With it you can scan your designs and deal with them with three different ways:
Scan to cut data: with this mode, you scan your image then you store it on your machine, a computer, a USB or even on the cloud. You can come back to it later to edit it and then if you like to, do your business with it as long as you use the correct accessory.
Scan to USB: It is a special case of the previous one. It is used to scan your images and stores them on a plugged USB drive.
Direct cut: This mode is used generally to scan an image and cut it directly.
The scanner has a resolution of 600 DPI which is quite good for a scanner. It can be used to scan the images in gray-scale or in colors. The maximum scanning size available with this machine is 11.7 inches.
Cutting capabilities
This machine is capable of cutting objects of up to 3 mm in width(0.118 inches). It is possible with it to cut thick objects such as foam. What is also interesting about it is that it's capable to detect the thickness of the materials and cut them accordingly.
You don't have to specify the materials type nor to adjust the blade's height. Everything is taken care of with what they call the blade sensor technology.
However, don't be mistaken. You still need to use the right blade with the machine depending on what you want to cut. It seems logical. It is impossible to cut a 2 mm (0.078 inches) fabric with only a 1 mm(0.039 inches) blade.
Connectivity
The sdx 125 has integrated wifi. This makes it possible to connect it with a tablet or a computer. It has also USB slots in case you don't have wifi or you prefer direct wire connections for some alternative reasons.
The connectivity options are important to transfer the scan results to your computer for instance, and also to transfer your files to your machine.
Alternatively, I am expecting Brother to use these connections to update the software that runs on the machine for further improvements.
CanvasWorkSpace
CanvasWorkSpace is a free application from Brother destined to help you get started by suggesting you several tutorials and other projects. It has a web-based version called CanvasWorkSpace for web and a desktop one, CanvasWorkSpace.
You can use both of them to create and edit your designs. However, be aware that the CanvasWorkSpace offers more features than the web version. It is also important to know that since the SDX 125 supports wifi connections, you can use your tablet with CanvasWorkSpace for web and send your desings from it to the machine.
SVG and FCM files support
Like any vinyl cutting machine from brother, FCM files are supported. There is nothing miraculous about it but still I needed to mention it. However, what is interesting about this machine is that it supports SVG.
With the support of the SVG files, it is possible to send to your machine the outputs of image editing applications such as photoshop and illustrator . You are not obliged to go through CanvasWorkSpace to change the format of your files and transfer them.
Accesories
The brother scan and cut dx sdx 125 comes with few accessories:
a stylus pen to use with the LCD touch screen
a spatula to remove your designs
Two blades with their protections caps. The first one is for thin cuts while the second one is for thick materials.
A black pen and its holder for drawings
A 12*12 inches mat usable only in one direction unlike the previous generations.
To use the machine for embossing and foiling, additional accessories need to be purchased.
Large scale projects
With the roll feeder embedded in the machine, it is possible to use vinyl rolls to attack ambitious large scale projects. Take notice that the rolls can have a maximum width of 12 inches while their length shouldn't exceed 70.2 inches or the equivalent of 5.85 feet.
With this feature, you can cut for example vinyl for birthdays, parties, tablecloth, etc …
Whisper quiet
The sdx 125 is made to be silent when in action. The designed mechanisms used in it make it less noisy than the other machines.
Personally, I don't believe that this is a totally interesting feature. Why? Well, when I start a process which takes time in a machine, the first indicator for me that it is over is the absence of noise. However, if you prefer quietness in general, it can suit your needs.
Users reviews
The users have various opinions about this machine. Most of them appreciate the versatility of the machine while others are complaining about the mat. They claim that it is not easy to load it into the machine. Also, they complain about the difficulty of use of this device.
Pros
Here are the pros for this machine:
Versatile: usable for cutting, drawing, embossing and foiling
The integrated scanner and its different features
The support of SVG files
The possibility of use of vinyl rolls
The machine is usable without a computer
The on screen editing possibility of the designs
Cons
Now it is time to see the cons of this machine:
It is impossible to use mats from other machines with this one
The high price of the machine
Conclusion
If you are looking for a tool to use to cut vinyls for your heat transfer business or simply to use for your several crafts, the brother scan and cut dx sdx125 should be perfect for you. However, you have to take into account the fact that it is not simple to understand immediately what it has under its sleeves .
If you are looking for a machine just to cut some vinyls, I recommend you to have a look at my article about the CM350.
Summary
Reviewer
Review Date
Reviewed Item
Brother Scan and cut dx SDX 125
Author Rating